'Altruman' tells the story of a selfless superhero in an everyday world who begins to question his life choices when he discovers a dark secret lurking inside himself.
What people are saying about 'Altruman'
ABOUT ALTRUMAN
Altruman's a top-notch superhero - the stuff that action blockbusters are made of. But on the home front he's struggling with family feuds, intimacy issues and career anxiety.
This six-part web series follows the parts of Altruman's life that don't involve crime fighting, but present him his greatest challenge - being human.
The series was developed from a short film made by the team in 2009. It was supported by a crowd-funding campaign and subsequently received a major a grant from the Australian government's film funding body, Screen Australia.
It premiered on ABC iview in Australia in October 2014 where it notched up over 40,000 views and is now available free to watch on YouTube.
Screenings & Awards
Best Writing - San Francisco Webfest 2015
Best Actor in a Comedy - Indie Series Awards 2015
Best International Series - Sicily Webfest 2015
Best Drama - Baja Webfest 2015
Best International Series - Baja Webfest 2015
Best Directing in a Dramedy (winner) - Rome Web Awards 2015
Best Story in a Dramedy (winner) - Rome Web Awards 2015
Best Poster Design - Rome Web Awards 2015
Best Director of a Comedy (nominee) - Indie Series Awards 2015
Best Soundtrack (nominee) - Indie Series Awards 2015
Best International Webseries (nominee) - Fidewa Webfest 2015
Official Selection - Buenos Aires Webfest 2015
Official Selection - Hollyweb Festival 2015
Official Selection - Seattle Webfest 2015
Official Selection - Melbourne Webfest 2015
Official Selection - Miami Webfest 2015
Official Selection - Toronto Webfest 2015
Official Selection - San Francisco Webfest 2015
Official Selection - Baja Webfest 2015
Official Selection - Viewster Online Film Festival 2014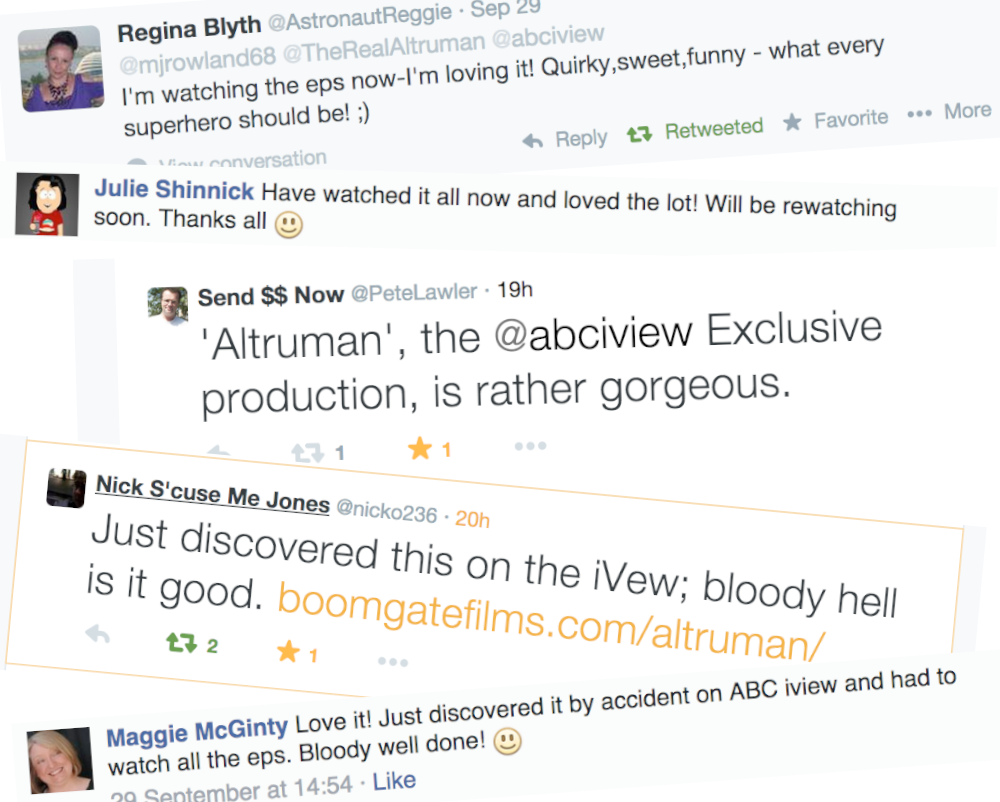 What people are saying about 'Altruman'...
Heaps of people are saying nice things about Altruman, and a lot of them are our mates. Here is some stuff that genuine members of the public and the press have to say...
Film Ink:
"A web series well worth your time"
The Weekly Review
"Funny, sweet and melancholy"
PinkRayGun
"They pulled this series off wonderfully with wit, charm and genuine emotion."
WebVee Guide
" ...it's no wonder that Altruman has been collecting laurels at web festivals worldwide."
WebSeriesMag
"Les épisodes qui mélangent comique et émotion"
More comments:
"I quite enjoyed that!"
- atregent, Reddit
"Altruman... is rather gorgeous"
- Peter Lawler, Twitter
"Just discovered this on ivew; bloody hell is it good."
- nicko236, Twitter
"Do we see any tits?"
- ratrl3, Reddit
"Loved the series!"
- Tracy Holtze, Facebook
"Love it! Just discovered it by accident on ABC iview and had to watch all the eps. Bloody well done!"
- Maggie McGinty, Facebook
"Quirky, sweet, funny - what every superhero should be ;)"
- AstronautReggie, Twitter
"Have watched it all now and loved the lot! Will be rewatching soon."
-Julie Shinnick, Facebook
"This sucked."
- Nicholas Dawson, Facebook
Meet The Team...
Altruman was created by Boomgate Films co-founders Stephen Sholl, Hannah Moon and Robin Geradts-Gill.
In this video they discuss the background and approach to making the series.
HANNAH MOON - Co-writer, co-director
Hannah launched as a director with her cinema ad, Social Death, winner of the TAC "Make a Film, Make a Difference competition" in 2007. In 2009 she received Raw Nerve funding for Bored Girls (LA Comedy Fest) and in 2010 Hannah directed Buying Time, the "Best Film" of the International 48hr Film Project. Her short documentary Hamish, about a girl with Aspergers syndrome, has screened at a range of festivals both locally and internationally. She is currently working on her first feature documentary in Ningbo, China, supported by Film Victoria
ROBIN GERADTS-GILL - Producer, co-director, co-writer
Robin is a freelance producer and director. After obtaining his Bachelor of Film & Television from the VCA, Robin worked for various production companies on television and commercial projects before establishing his own business producing a range of TVCs, web content, music videos, short films, and documentaries. He has won several awards for directing and cinematography and his short films have been screened at festivals worldwide. He is currently living and working in London.
STEPHEN SHOLL - Co-writer
Stephen has worked as a researcher and script co-ordinator on Australian television shows such as Killing Time, Devil's Dust and Mr & Mrs Murder. As a co-founder of Boomgate Films Stephen has co-written the web series 'Altruman', the short film 'Dario' and the screenplay for the feature film 'Starfish', which was nominated for the Monte Miller Prize for Best Un-produced Screenplay at the 2013 Australian Writers' Guild Awards. He is currently working in Melbourne.
BEN MCEWING- Altruman
Ben moved to Melbourne in 2001 to attend the VCA School of Drama and soon after founded comedy trio The Squirth. In the years since, Ben co-wrote, produced and starred in various projects with Team Squirth including: theatre 'The Magical World of Patrick the Servant', ' Sherlock the Vampire Slayer' for Melbourne Fringe; radio 'Clubber's Crossing' for Kiss FM and TV 'Our Melbourne' for C31. Independent of the comedy team, Ben has directed and produced a number of theatre shows, short films and web series, including his first solo comedy show at Melbourne Fringe 2008 as the quintessential man man Axel von Schneemann. He directed a live-read radio play called 'Bullet' for the Comedy and Fringe Festivals. He also starred in the award winning short, 'Touched', for the 48hr Film Project Melbourne in 2011. In 2013, he was a co-lead in a Tropfest finalist film, 'Sine'. He now runs storylab, a video communications company, that he'll eventually turn into a cyberspaceship that flies around the internet.
CREDITS
ALTRUMAN
BEN McEWING
LILY
MIRIAM GLASER
LANCE
DAVID FRAZER
ALTRUMAN'S MUM
DEIDRE RUBENSTEIN
ALTRUMAN'S DAD
TONY NIKOLAKOPOULOS
MAGGIE
HANNAH MOON
DICEMAN
MICHAEL FINNEY
HAMISH
LAWRENCE LEUNG
JEFF
STEPHEN FRANCIS
FANNY
RUTH SCHOENHEIMER
GEORGE
LOUIS ATHANASIOU
WAITRESS
LUISA TASCONE
DIRECTED BY
ROBIN GERADTS-GILL
& HANNAH MOON
WRITTEN BY
STEPHEN SHOLL
HANNAH MOON
& ROBIN GERADTS-GILL
PRODUCER
ROBIN GERADTS-GILL
DIRECTOR OF PHOTOGRAPHY
RYAN ALEXANDER LLOYD
PRODUCTION DESIGNERS
ROXIE HALLEY
& SOPHIE HAYWARD
HERO COSTUME DESIGNER
MELANIE LIERTZ
SOUND DESIGNER
CAMERON GRANT
COLORIST
KALI BATEMAN
CONSULTING EDITOR
GEOFF HITCHINS
GAFFER
THOM HOLT
FIRST ASSISTANT DIRECTORS
ANNIE MANGEN
TOM BOOTH
& JOANNA BENCE
PRODUCTION RUNNER
ELLIOT CUMMINS
MAKE-UP ARTIST
ANNA FERNIK
FIRST ASSISTANT CAMERA
MARCUS ALLEMAN
& RUDI SIIRA
SECOND ASSISTANT CAMERA
JACQUI CATALANO
SOUND RECORDISTS
LEON EAST
GUNAY DEMIRCI
& JASON ALBURY
BOOM SWINGER
GEOFF SIMA
SET DRESSER/STANDBY PROPS
SARA CORBETT
STILLS PHOTOGRAPHER
TOM FRANKS
POSTER PHOTOGRAPHY
LACHLAN WOODS
TITLE DESIGN & ARTWORK
NICK EDLIN
LEGALS
JULIA ADAMS
PUBLICITY
ERIN JAMESON
HELEN O'MALLEY
NIC GILL
FEATURING MUSIC BY
THE LITTLE STEVIES
THE PANICS
AINSLIE WILLIS
& JACK CARTY
Altruman